Restaurants and Bars at
The BodyHoliday
Food nourishes the body, but when it is prepared with the flourish of a great chef, it also nourishes the soul.
Wherever you eat, you can be sure that all the food is freshly made, tastes great and is nutritious.
There are three restaurants and a Deli at the resort.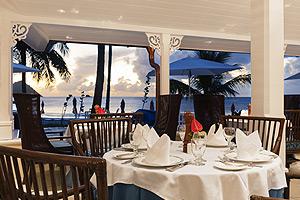 Cariblue Restaurant
From breakfast right through to dinner, the Cariblue is set right on the beach so you can experience great food in a great location. It is here that you start your day with a full buffet breakfast. Choose from a variety of dishes including eggs cooked to order, sausages, bacon and grilled tomatoes with daily specials like Egg Benedict. You can also enjoy some of the Caribbean specialty dishes or go continental with a selection of breads, Danish pastries, chocolate croissants and cereals. Lots of tropical fruits include mangos, melons, papaya and pineapple.
A themed buffet of fabulous choice is served for lunch daily.
Dinner is served 'a la carte' and consists of several courses that include meats and fish as well as vegetarian selections. A variety of wine is served with your meal at no extra cost.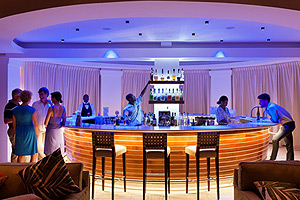 The Club House
Whether you need a drink, afternoon tea, a great evening meal (BBQ style) or fancy taking in a night-time show, The Clubhouse is always at the centre of the action.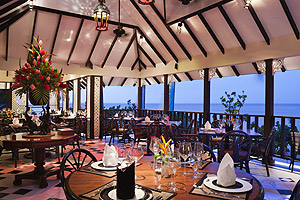 TAO
One of the finest restaurants in the Caribbean – a unique culinary fusion of East and West all set in a stunning location.
The Deli
The Deli Is set in the resort centre in what feels like a small plaza. You can go at any time during the day for a coffee or a light snack, including Greek, Nicoise and Caesar salads or Panini with your choice of fillings. Try a selection of coffees or healthy treats like smoothies, carrot cake, oatmeal biscuits, fruits, sandwiches and soups.
The Piano Bar
This is a comfortable bar to relax in before or after dinner. The long bar is stocked with whatever your heart desires, and of course, there is a baby grand piano and a resident pianist. Also available at the Piano Bar are famous board games like chess, checkers and backgammon.