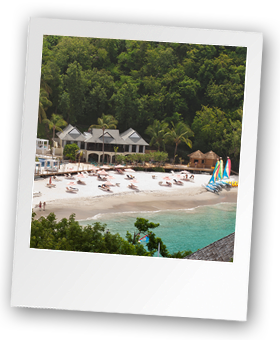 LeSPORT Hotel St.Lucia
The Body Holiday at Le SPORT St Lucia is the creation of the Barnard family, who thought that there was no better place on Earth to create a haven of wellbeing than Cariblue beach on the serene island of St Lucia. This describes our beautiful resort in a nutshell, but there is so much more to say about what we offer our guests.
Our resort is situated on a quiet, secluded cove where pristine white sands and lapping turquoise waves meld with the most idyllic of beaches. This setting inspired us to make a spa resort that would complement the serenity of the area, which is how The Body Holiday at LeSPORT St Lucia came to be the Favourite Overseas Spa Resort in the world according to readers of Condé Nast Traveller in 2011.
Our Wellness Centre offers our guests a series of programmes that have been designed to help you achieve whatever kind of wellbeing you desire. These programmes, made up of treatment courses and exhilarating activities, are the perfect way to help you put a new spring in your step.
To complement our Wellness Centre and beautiful resort, our rooms are also a Caribbean haven of relaxation. We have a number of different rooms available, from perfect little retreats for single travellers to our amazing Penthouse Suite with its own private Hammam and unrivalled views.
We are continually improving the experience that we offer to our guests at Le SPORT St Lucia, and our latest development allows guests who have already booked with us to plan their schedule online with our bespoke customisation tool. This can all be done before arriving at our sunny little paradise, meaning that you can have everything in order before you settle down for a relaxing stay.
Your holiday with us at LeSPORT St Lucia will not only help you to relax when you are our guest, but also ensure that you leave us feeling rejuvenated, with the knowledge that you have the confidence to do whatever it is that makes you feel good.